We're are proud to announce Auto Boys Garage has joined our Overdrive Automotive team!  The showroom is built and we'll be ready to serve you with parts and accessories.  Our background is 16 years of service and reliable work on 1000's of customer vehicles.  Our fun side needs to come out now and partner with our customers to help you with your accessory needs with professional installation in our extremely well equipped facility.
SERVICE YOU CAN BET ON ! We hope that the information to follow will allow you to familiarize yourself with WHO we are, WHAT we do and HOW you can find us. We promise to do our utmost to deliver our professional service in a very personalized manner. We thank you for wanting to learn more about us and should you wish to know more of what we can do for you, please call us… we would be delighted to talk to you about the benefits of our program. We strive to be the only auto repair and maintenance choice for each of our clients due to long term relationships which have been earned through consistent delivery of outstanding service quality in an environment which promotes trust, fairness and respect. Our store is independently owned and operated which means that we are providing a personalized service to our customers. It is this dedication that differentiates us from our competitors as we continually strive to deliver an outstanding customer experience to each one of our satisfied customers. We look forward to your visit. Stop by today! "We Are Here To Make Relationships With You"
special offer
Rough Country Suspension Sale!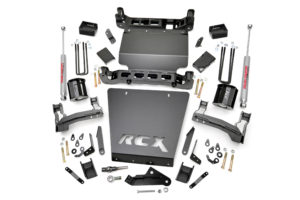 It's lift kit season!   Ask about a deal on a Rough Country lift kit installed at participating locations
It's Tach season rebate!
Purchase an Autometer Tach and mail in for MONEY! Click on "Learn more" for info"